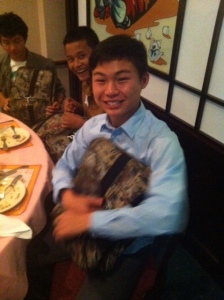 This high school refugee student in SW Houston and three other refugee
students won Caring Friends educational account awards Sunday April 19,
2015.
Because of the outstanding advocacy of The Partnership for Advancement and
Immersion of Refugees (PAIR), and because of the hard work, commitment,
perseverance, and excellent essays of these refugee students, Caring
Friends funded small PAIR accounts.
The students can use these fund to buy books, hire tutors, pay for college
application fees or SAT prep courses.
Hospitality and welcoming strangers and refugees is an expression of
compassion, friendship, and a Judeo-Christian value that is too seldom
expressed by many of us.
In-kind gifts to Caring Friends like the nice carrying bag in this photo is
yet another way that someone extended a welcoming hand to our refugees.